This season, we've pooled our (self-proclaimed) collective genius together to form 'Team TSZ', a fearsome squad of fantasy point machines who will gun for glory in our very own FPL mini-league.

Decisions will be made collectively after polite discussion. 'Team TSZ' consists of:
Rob Esteva – Managing Director
Trystan Pugh – Sports Content Manager
Tim Blackwell – Chief Sports Data Scientist
So how did we get on in Gameweek 22?
Last Gameweek's Points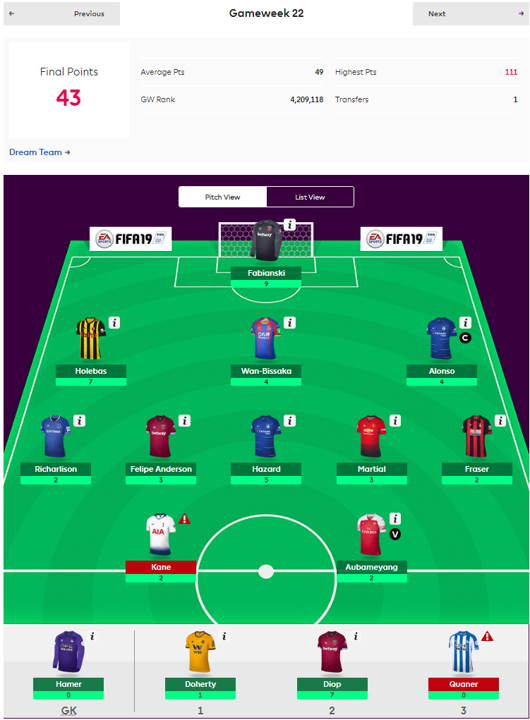 GW points: 43
GW average: 49
GW rank: 4,209,118
Overall rank: 132,611 (▼)

It's come to that part of the FPL season where you find yourself just staring at your team, handpicked lovingly over the course of several gameweeks, and wonder where it all went wrong. Despite his assist, we feel slightly trolled by Eden Hazard. Despite beating Arsenal, it was the former Gunners man Samir Nasri who was instrumental, and not Felipe Anderson. Despite Rob calling for his selection for weeks, it seems Anthony Martial preferred life under Jose Mourinho. Despite barely scoring a goal after New Year's Day last season, we have endeavoured to keep faith with Richarlison, who must have really overdone it at Christmas.
We all have bad weeks, but falling to 16th in our mini-league is unforgivable. To put this into perspective, we drew with Rob's personal team. This is our official statement to the press: "we have total faith and confidence in our manager, and his staff."
(Next man in charge of Team TSZ: David Wagner 7/2, Aitor Karanka 5/1, Sam Allardyce 8/1).
Gameweek 23 Team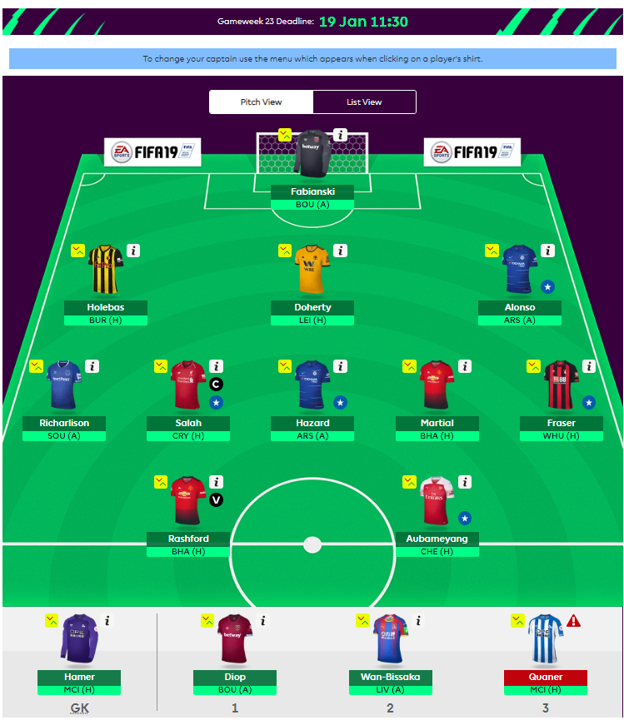 Formation: 3-5-2
Captain: Salah
Vice-captain: Rashford
Transfers made: 2 (Felipe Anderson > Salah / Kane > Rashford)
Point deductions: 0

The Harry Kane injury blow was the main topic for debate this week amongst FPL players, and this will be a really interesting gameweek for those of us who like to take a punt. The freeing up of funds from his transfer left us, finally, with the means to bring in Mohamed Salah. Tim was pleased by this, after three weeks of politely pointing out that we don't have any players from the top two teams, although he did state, several times, that we are yet to own a City player. With only 0.1m in the bank, and City's fixtures looking tempting, we're looking for Hazard, Richarlison or Martial to give us a reason. Pierre-Emerick Aubameyang is on thin ice too, with Sergio Aguero looking increasingly angsty on the City bench.
Having decided that West Ham's time in the sun might be up, a contentious decision considering their performance against Arsenal last weekend, we offered Felipe Anderson as forfeit; bringing in new FPL darling Marcus Rashford to fill Kane's massive boots. The beauty of bringing Salah in, is that we will never have to quarrel over who to make captain.
We don't want to talk about Diop, who has scored us almost twice as many points (17) on our bench than on the field (9). He's on the bench again this week, mainly out of spite. Quaner could start up front this weekend, but for Ipswich Town, who are bottom of the Championship, and so as far away from our starting XI as physically possible. A back three of Holebas, Doherty and Alonso could well be our strongest play this weekend. Of course, now I've said that, they won't.

For the rest of our Gameweek 23 content, visit the links below:
Captain Picks - https://www.thestatszone.com/f...
Fixtures - https://www.thestatszone.com/f...

Projections - https://www.thestatszone.com/f...
Team News & Predicted Line-ups - https://www.thestatszone.com/f...